3D掃瞄器
週三, 06 一月 2010 15:02
桌上型3D掃瞄器 
簡易操作    輕鬆編輯    呈現超質感擬真物件
閱讀全文...
週一, 22 九月 2008 14:08
 桌上型3D掃描器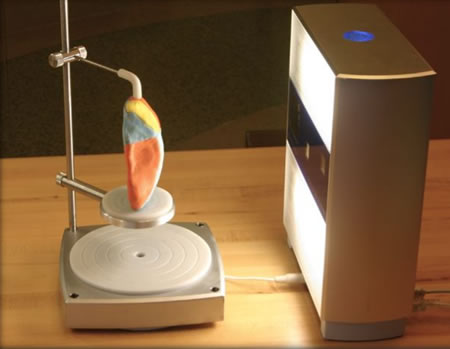 ARCHITECTURE
Measurement System proprietary MultiStripe Laser Triangulation (MLT) technology. Patents Pending.
Source Twin arrays of four, Class 1M, 10 mW solid state lasers with custom optics. 650 nm wavelength.
Sensor Twin 3.0 Megapixel CMOS RGB image sensors.
Texture Capture Optically synchronous RGB color texture capture for precision-locked geometry correlation.
Texture Source Built-in spatially diverse whitelight texture illuminators with tri-phosphor, wide color gamut.
AutoPositioner™ High precision rotary servo positioner, auto-incremented under scanner control. 20 lb capacity.
PartGripper™ Fixture Universal part holder to adjust height, angle and orientation of capture. 10 lb capacity.
PERFORMANCE
Object Size No preset limit. Objects larger than Field can be composite-captured with supplied software.
Field Size 5.1" x 3.8" (Macro) and 13.5" x 10.1" (Wide). ("Coke can" and "shoebox" sizes respectively).
Resolution Point density on target surface is 400 DPI in Macro Mode and 150 DPI in Wide Mode.
Dimensional Accuracy ±0.005" in Macro Mode and ±0.015" in Wide Mode.
Acquisition Speed 50,000 processed points/sec throughput. Typically 90 seconds per scan of each facet.
Typical Datasets Typical small models are a quarter million points, after oversampling and optimization.
Environmental Desktop use under ordinary office lighting. No darkroom or special backgrounds required.
SOFTWARE
ScanStudio™ Scan control panel with high performance OpenGL 3D viewer. Manages all hardware.
SolidWorks Integration Scan right inside SolidWorks. Click to get scan control panel, click again to go back to design.
Native File Format SolidWorks + NextEngine co-developed
native format. Zero conversion time or errors.
Format Options Scan files can also be output in STL, VRML and other formats for exchange with other systems.
File Size 20MB for typical model, based on 10 facet scans.
Modeling Tools Assemble views into a complete model easily with built-in Smart Alignment and trim tools.
週一, 22 九月 2008 06:44
InSpeck

3D Mega

Capturor

II                           

 

                         

spec

 

擷取率

Acquisition Rate

(Points)

1300000

(per scan)

點距

Point to Point distance

(mm)

0.3

((0.9 LF unit))

最近工作距

Working Range Near

(mm)

900

((1100 LF unit))

工作距(遠)

Working Range Far

(mm)

1300

((1700 LF unit))

色彩擷取

Colour

Capture

Yes

(1280 x 1024 pixels)

擷取時間

Acquisition Time

(Sec)

0.7

 

小範圍

Small Field

大範圍

Large Field

視野

FOV

435 x 350

1190 x 450

景深

DOF

450

1000

X

軸向解析度

Resolution in X

0.3

0.9

Y

軸向解析度

Resolution in Y

0.3

0.9

Z

軸向解析度

Resolution in Z

0.4

1

Stand Off

900

1100

Ref. Distance (z=0)

1100

1500

貼圖大小

Texture (Pixels)

1280 x 1024

1280 x 1024

幾何點

Geometry (Pts)

1.3 Million

1.3 Million

擷取時間

Acqu

. Time (sec)

0.7

0.7

註解:人體全身彩色

3D

掃描器,曾使用此設備掃瞄美國大聯盟

900

球員全身

3D

模型,做為

3D

棒球遊戲的人體模型建構工具
週一, 22 九月 2008 06:41
Polhemus FastScan

      FastScan 結合了Fastrakr 動態追蹤的技術,用來偵測物體的所在位置及方

位,經過偵測描掃下來的物件影像,可以透過電腦系統建置 3D 物體。FastScan

可以掃瞄以往無法掃描的地方,也可以掃瞄移動
中的物體,且對於非金屬物體掃
瞄的效果是非常的理想。
分析

過程

Custom electronics video processor Polhemus FASTRAK® magnetic tracker

尺寸

450 mm (18 in) in length 2 miniature monochrome cameras
1 laser diode: 670 nm, 1 mW, Class II Tracker Receiver

解析度

Laser line length increases with Wand-Object range, typically ..150 mm at 200   mm   range (6 in at 8 in) Resolution along the laser line depends on Wand-Object   range, typically 0.5   mm   at 200 mm range (0.02 in at 8 in)
Scanning speed is 50 lines/sec, line-to-line resolution depends on scanning speed, typically 1 mm at 50 mm/sec (0.04 in at 2 in/sec). Resolution

系統

Tracker Transmitter Tracker Receiver for attachment to movable objects

範圍

Up to 760 mm (30 in) Wand-Transmitter and Receiver - Transmitter range
75 mm to 680 mm (3 in to 27 in) Wand-Object range

準確度

With Transmitter as Reference, accuracy depends on Wand-Object range, typically 1 mm at 200 mm range (0.04 in at 8 in)
With Receiver as Reference, accuracy also depends on Receiver-Object range

界面

Connects to ECP capable parallel port (LPT1), additional card available (LPT2) DMA ECP driver provided

軟體

3D graphics: point, wireframe, flat or smooth surface display

3D controls: rotate, zoom, center scan Selectable resolution, faceted surface simplification, outlier removal Export polygon mesh to 3D Studio Max®, ASCII Points,   AutoCAD Points and 3D Faces, IGES Points, Lightwave   Object, Matlab Mesh,   STL, Virtual Reality   Modeling Language,   Wavefront Object,   Open Inventor and others.

環境

Operation in the presence of metal objects or electromagnetic fields may interfere with the scanner's tracking and degrade performance. Providing the Transmitter, Wand and Receiver are kept sufficiently far from metal objects or fields they should not pose a problem. Because scanning relies on the cameras seeing the laser line, some surfaces may not be suitable for laser scanning, eg. translucent, reflective, dark or deeply convoluted surfaces.

最低系

統需求

Pentium II, 266MHz, CD-ROM, 64MB RAM minimum, ECP capable parallel port, Windows NT 4, preferably OpenGL accelerated graphics card